Walt Disney in a Timeless Moment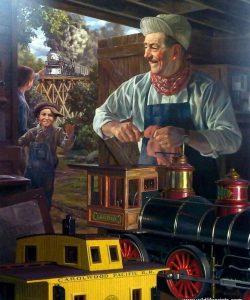 Tucked away in WDW's Wilderness Lodge is a place that many people never take the time to visit. It goes by a number of names, the Disney vets will call it "The Iron Spike Room." What makes it fun is that is loaded with train stuff and most know of Walt Disney's love for trains. I used it for settings in the Key to the Kingdom series and was amazed at how many people used the books as a guide and went to visit. They are not disappointed.
One of my favorite things to see there is a painting on the wall called – Walt Disney's Magical Barn
Barns played an important role in the life of Walt Disney. From the time he was a young farmboy Marceline, Missouri, where he produced his first show in his families barn , a circus for the kids in the neighborhood, to his Carolwood Pacific Railroad barn at his home in Holmby Hills, California, his happy place was always a simple barn.
In this oil painting by renowned artist Bob Byerley, Walt is shown working in his barn on his one-eighth-scale live steam engine Lilly Belle. A young boy appears at the door, beckoning Walt to come outside and join his older brother as they wave to the operating engineer aboard the steam puffer as it crosses the trestle. Notice that Walt isn't making eye contact with the boy. Because, the boy is Walt and he is recalling days long ago when he and his older brother, Roy, would greet Uncle Mike Martin as he pulled the train into Marceline on it's  run from Fort Madison, Iowa to Kansas City on the Santa Fe line.
In the lower left corner of the painting there is a portion of an engineering drawing of a Main Street Train Station designed for a themed amusement park that was a magical dream in formation. Look closely at the wristwatch: there are no hands. So, while Walt remembers his past , enjoys a present, and anticipates his future, above all, he remains timeless as long as his memory is kept alive.
A powerful reminder to remember the past, embrace and enjoy the present, and dream about the future – for all of us!