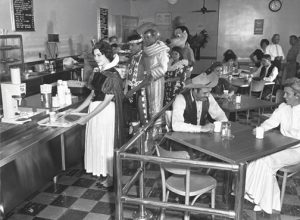 Imagine walking through the Walt Disney Studios in Burbank. The time is a bygone era…but it is a time that is remembered fondly and the Walt Disney Studios was THE place to be. Innovative, collaborative, colorful design had created a studio that looked more like a college campus than it did a major motion picture studio. None of that was by accident, it was all a part of Walt's plan.
In many ways the hub of the studio was the Commissary which featured Walt Disney's Studio Restaurant as well as an executive dining room, the Coral Room. It was here that cast members could relax, eat, socialize, and even play – it featured ping pong tables on the deck of the Commissary.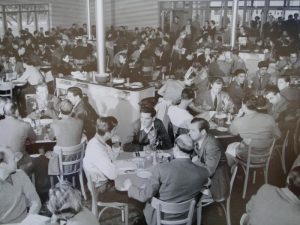 The Commissary was the place to dine, to see, and to be seen. Everyone took the time to hang out there, even Walt himself. In an era where most studio heads would be easier to find in their offices, Walt would show up for lunch just like everyone else, grab his tray, and visit with people as he ate each day.
Hedda Hopper, a Hollywood gossip columnist recalled during one of her frequent visits to the studio in 1963… "A small boy was playing ping pong. Another little with a yellow neck tie and yellow socks was playing outside the entrance to the dining room.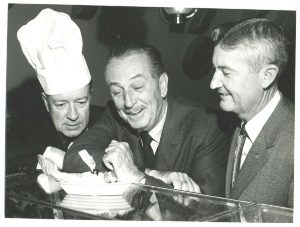 Walt said, "Hello Matthew. How are you?"
The quick exchange ended and Walt patted the young boy on the head with a smile as he passed. The little boy glowed. The boy was Matthew Garber, a young actor, on his lunch break, doing what kids do…playing. He played the young Michael Banks in Mary Poppins.
Moments later, Julie Andrews came by in a pert little hat with a daisy sticking up in the front. Walt said, "I'm gonna give you that when the picture is done." This of course was the signature hat that Mary Poppins wore in the film.
Julie Andrews replied, "I want it so badly and didn't want to ask."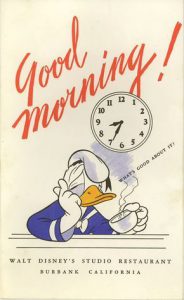 Walt took it all in stride, moving among his staff, talking, laughing… they had a place to connect, work, and create together.
The story of how that studio in Burbank is an amazing one and one of the sources to check out is "The Walt Disney Studios – A Lot to Remember" by Steven Clarke and Rebecca Cline.
Never underestimate the way we connect to others. The encounters, the laughter, the smiles, the quiet conversation, and the shared experiences all combine into moments that might just become memories. Every person you meet today needs to be encouraged and you might just be in the perfect place at the perfect time to bless them. Don't miss the opportunity. When you do – you will be making their world better and you will be touching and changing the world one person at a time.