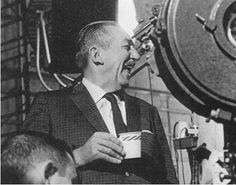 This edition of Disney Archaeology is a bit unusual – because it invites you to have a cup of coffee with Walt Disney.
Now, this of course involved a little imagination but we begin with Renie Bardeau, the longtime chief photographer for Disneyland, seated on the patio of the Hills Brothers Coffee Garden in Disneyland. The park was scheduled to open a half hour later, so it was quiet. Renie was having a cup of coffee and reading the paper. Walt Disney came along and joined him.
A waitress recognized Walt and was both intimidated and nervous. Shaking slightly, wiping her hands on her costume, with a nervous voice mustered – "Is there anything I can get for you Mr. Disney?"
Walt smiled and wanted to make her more comfortable and gently assured her, "Call me Walt. There are only two misters here in Disneyland, Mr. Lincoln and Mr. Toad."
She brought Walt his coffee and he sat and talked Renie about a variety of things concerning Disneyland. It might surprise you that Walt had fairly simple tastes. Perhaps it was his Mid-western upbringing, but he never really acted or adapted to being a global star. His normal lunch would be simple, sandwich, chili, and coffee. Coffee for Walt Disney was the best beverage to open up a conversation.
Many of the early stories of Disneyland recalled the way Walt would show up in someone's office with a couple of cups of coffee, which was always followed by a casual conversation that inevitably would lay out some new idea, attack some problem, or just get to know someone better.
When Walt would spend the night in his apartment on Main Street USA, he would often appear early in the morning, strolling down Main Street with a pot of coffee he had personally brewed, along with some disposable cups. Usually wearing his bathrobe and slippers, he would give coffee to the night shift cast members and he would ask them questions, offer them encouragement, and try to make sure they felt like what they did mattered.
Make no mistake about it. Walt Disney was a driven visionary to be sure. But he also knew the value of people. He tried to create a casual calm and liked to create a culture that seemed informal, even if it wasn't. One of the ways Walt did this was over a cup of coffee. For him, it was the beverage that created a more casual conversation that seemed more personal and productive.
Now you may not like coffee but miss the point. Walt found a way to connect to people, help them relax, and then was willing to engage them in conversation. That is so important if you are going to inspire, encourage, and get to know others. So take the time and have a cup of coffee – you can even do that as you maintain social distance. But as you do, you find the distance closes, people will relax, and you can bless their lives and impact their world.