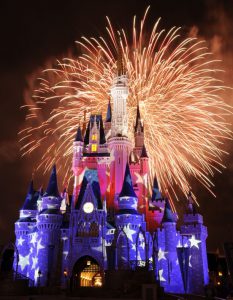 This is an Independence Day edition of Disney Archaeology. Wherever you are, this is a weekend where we celebrate the freedom and independence that we enjoy in America. It is an important time as we celebrate to also ponder and reflect on the cost of freedom, which contrary to popular opinion is never free. Freedom comes at a price and is something worth fighting to attain and preserve. America throughout the history of the nation has proven that.
Walt Disney once said, "Tomorrow will be better as long as America keeps alive the ideals of freedom and a better life."
An often forgotten chapter in Disney history is Walt's patriotism and the studio's involvement during World War II. In March 1941, Walt wanted to prove that the Studios could play a wartime role. So, he brought in an engineer to help his animators make training films that were eventually in use by the U.S. armed forces.
Later that year on December 7, 1941, Pearl Harbor was bombed, and America was at war. This event promoted a number of changes across our nation. Walt received a phone call at home letting him know that the United States Army was moving onto the studio lot.
Throughout the war, The Walt Disney Studios contributed in a variety of ways without earning a profit. Completing all work at cost was part of Walt's financial contribution to the war effort. Disney designed more than 1,400 insignia for military units, at an average cost of $25 each. As reported in Walt Disney: An American Original, Walt said "Those kids grew up on Mickey Mouse, I owed it to 'em."
In addition to creating insignia, Walt received calls from the Navy, the Army, the Department of Agriculture, and other government agencies to create training films and public service announcements.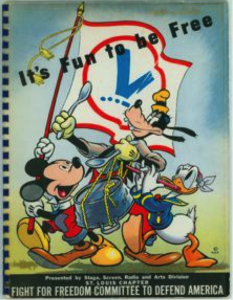 By the time the war was over, Disney had created over 30 films for the war effort.
The Studios became a machine producing material for America. Walt and Roy were forced to reconsider the direction of the company. All feature films were put on hold except one, Bambi. Everything else shifted to accommodate the needs of the government during the war effort. During the war, production at the studio increased from an average of 3,000 feet of completed film per year to 300,000. The studio was operating six days a week, plus two nights of overtime just to keep up.
Walt was worried that the Studios could not continue the output needed with a depleted staff. Walt approached the military to see if extra help could come from within the ranks of the military. This led to a series of clearances, inspections, restricted areas created, and official visits and discussions. Once the true magnitude of work the Disney Studios was producing, the military understood that Walt Disney's war work was so crucial they sent drafted Disney Studio employees back to the Studios in uniform to resume their work.
Was it worth it? Of course it was…
As Walt Disney also reflected, "I believe that this spiritual and intellectual freedom which we Americans enjoy is our greatest cultural blessing. Therefore, it seems to me, that the first duty of culture is to defend freedom and resist all tyranny."
Freedom is never free, there is always a cost, and it should be remembered – honored – and celebrated….Happy Independence Day.